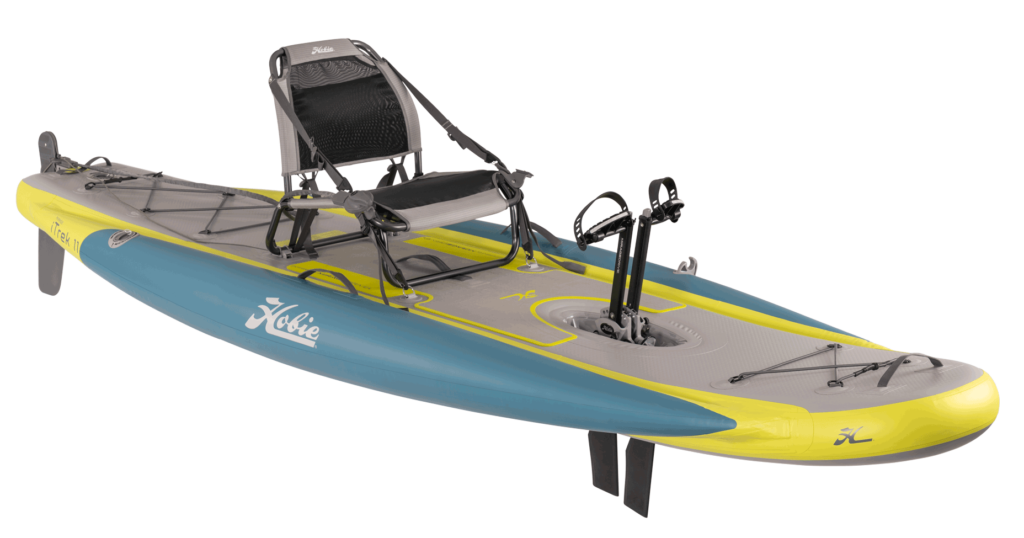 2023 Hobie Mirage iTrek 11 Kayak
Built for everything from day trips to overnight escapes.  The Hobie Mirage iTrek 11 inflatable kayak with perched seating is the perfect choice for any adventure. Its high-performance lightweight construction boasts the speed, stability, and tracking of a rigid kayak without the extra weight. With a fitted weight of only 28 pounds, this lightweight inflatable is easily packed away in a roller duffle bag.
Ideal for RV, boat, and even airline travel! The iTrek 11 is unlike anything else on the water. Its unique design takes comfort to a new level with elevated seating.  It features a cup holder and breathable nano-mesh fabric. Powered by the MirageDrive GT with Kick-Up Fins and an integrated rudder for dual steering, the iTrek 11 is fun, nimble, and lightning-fast. An ambidextrous steering system allows the steering handle to mount on left or right side of the seat.
Ultra-stable with a 400 lbs. carrying capacity. The iTrek 11 features a rugged inflatable drop stitch hull with triple-chamber construction. It also comes with EVA standing pads for improved traction. Attached to each side of the center chamber is a single-chamber pontoon. This provides you with an extra-wide platform for a stable ride. Its improved hull design delivers even more stability.  You also get increased total capacity, so you have plenty of room for all your gear.
A four-piece paddle, high-pressure hand pump, high-volume electric pump, and drink holder are all included.  You also get an easy-load rolling travel bag that's portable, storable, and ready for your next adventure. Powered by the MirageDrive GT with Kick-Up Fins, reaching your favorite fishing spot has never been easier.
CREW: 1
DRIVE: MIRAGEDRIVE GT
LENGTH: 10′ 8″ / 3.25 M
WIDTH: 40″ / 1.02 M
CAPACITY: 400 LBS / 181.4 KG
FITTED HULL WEIGHT: 28 LBS / 12.7 KG
FULLY RIGGED WEIGHT: 44 LBS / 19.96 KG
*All colors, graphics and specifications of all models are subject to change without notice.
MSRP: $2,979
MirageDrive GT with Kick-up Fins
Improved Hull Construction is Lighter and More Durable
Aluminum-Frame Seating with Breathable Mesh
Detachable Rudder System for Right & Left Handed
EVA Standing Pads
Seat Mounted Cup Holders
3-Piece Paddle
Rolling storage bag with extension handle
High Volume Hand Pump & High Volume Electric Pump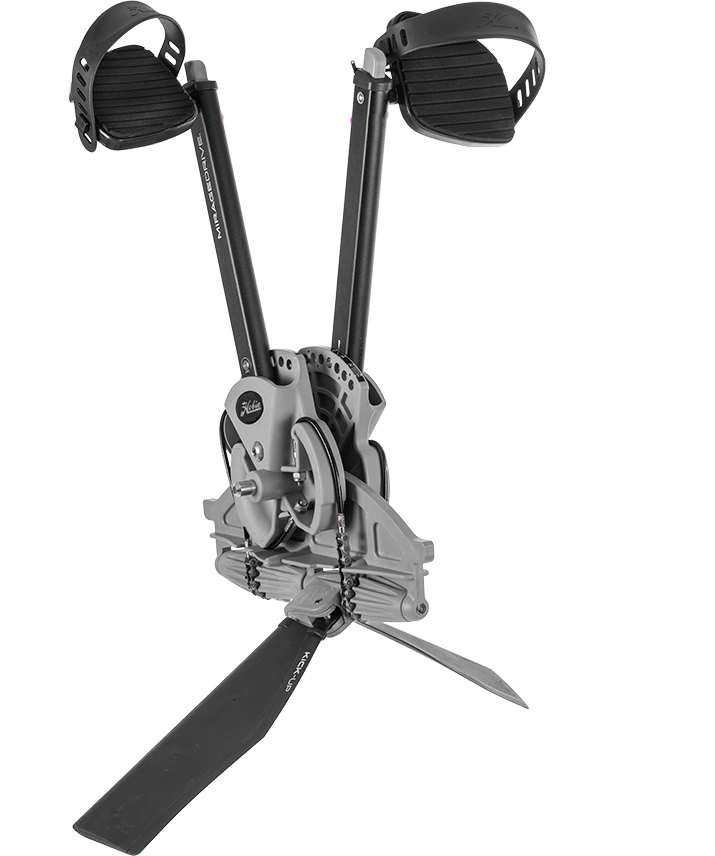 Powered by MirageDrive GT + Kick-Up Fins
The ungainly paddle is replaced by the sheer efficiency of the MirageDrive, the original pedal kayak drive. With the largest human muscle group now in play, kayaking becomes easier and more efficient than ever.
The Hobie i-Series is the perfect choice for the kayaker who is short on space or storage. When portability is paramount, Hobie inflatables easily fold up and pack nicely within the included rolling travel bag.