2023 Hobie Mirage iTrek Fiesta Kayak
If you're looking to have some serious fun on your next family outing, look no further than the Hobie Mirage iTrek Fiesta. This one-of-a-kind kayak is equipped with four comfortable seats, one easy-to-use steering system, and is powered by two MirageDrives with Glide Technology and Kick-Up Fins.
But if you want even more power, you can easily upgrade and add two more MirageDrives with GT, delivering even greater speed and maneuverability.
The Fiesta is the most unique watercraft on the market today. Its high-tech, 550 denier, triple-chamber construction delivers the same stability and rugged rigidity as a solid boat, but in a lighter package.
The Mirage Fiesta is fast and a party on the water – but we didn't stop there. It's versatile, too. Simply turn the front two seats to face the back for integrated social seating, making it the perfect watercraft for spending time on the water playing games or putting your feet up and hanging out.
A three-piece SUP paddle, high-pressure hand pump, high-volume electric pump, and storage bag are all included along with the four seats and two MirageDrives with Glide Technology + Kick-Up Fins.
CREW: 4
DRIVE: MIRAGEDRIVE GT
LENGTH: 15′ 0″ / 4.57 M
WIDTH: 80″ / 2.03 M
CAPACITY: 1000 LBS / 453.6 KG
FITTED HULL WEIGHT: 78 LBS / 35.4 KG
FULLY RIGGED WEIGHT: 105 LBS / 47.63 KG

MSRP: $5,949
*All colors, graphics and specifications of all models are subject to change without notice.
(4) MirageDrive GT with Kick-up Fins
Improved Hull Construction is Lighter and More Durable
(4) Aluminum-Frame Seating with Breathable Mesh
Detachable Rudder System for Right & Left Handed
EVA Standing Pads
Seat Mounted Cup Holders
Stand-Up Paddle
Rolling storage bag with Multiple Carry Handles
High Volume Hand Pump & High Volume Electric Pump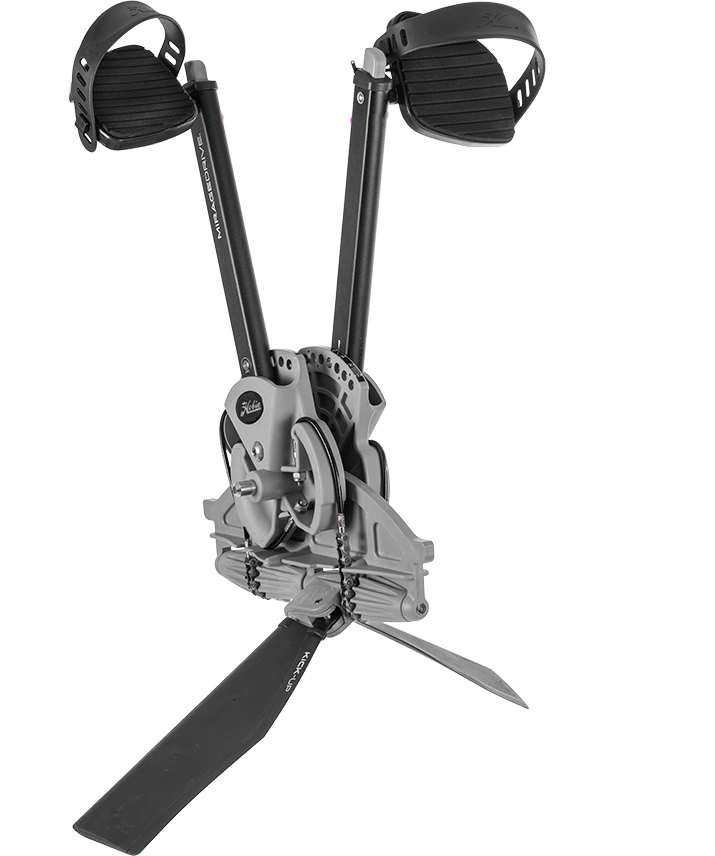 Powered by MirageDrive GT + Kick-Up Fins
The ungainly paddle is replaced by the sheer efficiency of the MirageDrive, the original pedal kayak drive. With the largest human muscle group now in play, kayaking becomes easier and more efficient than ever.