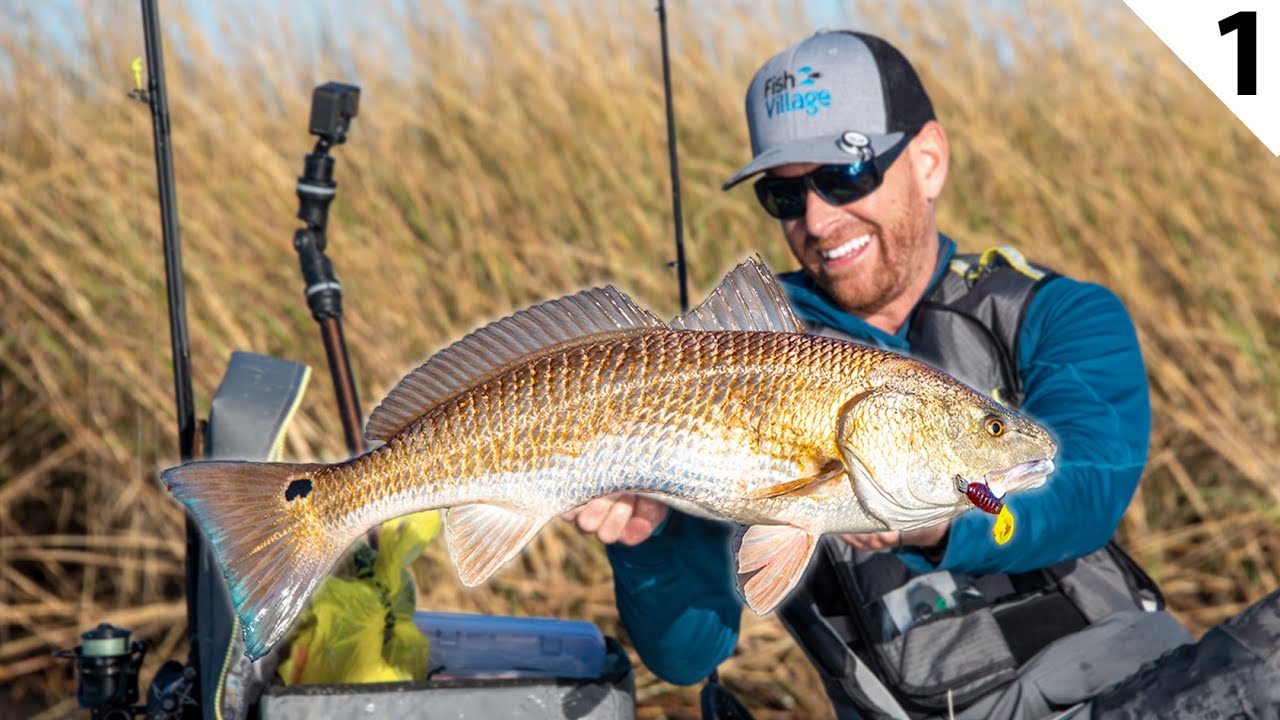 July 6th, 2021
Posted by Gregg Kell
Uncategorized
0 comments on "Sight Fishing for REDFISH Up Shallow (CATCH CLEAN COOK) — Field Trips Louisiana Ep. 1"

BOOK THIS TRIP WITH ME: https://bit.ly/FV_Louisiana
In the first of this 4-part series, we've assembled a huge crew of kayak anglers from around the country for the full Louisiana experience: from kayak fishing deep in the marsh to bowfishing from an airboat after dark. Part one has us battling high winds and low water in search of cruising reds, and then cooking them up a few ways back at camp. We even have ourselves an authentic Louisiana shrimp boil before heading out in a pair of airboats to bowfish for reds after dark.
COMMENT BELOW and tell me your favorite way to cook redfish! Who wants to join us on a trip like this?
GET THE TACKLE WE'RE USING: https://bit.ly/FieldTrips_TackleDirect​
DOWNLOAD THE FREE ANGLR APP: http://bit.ly/2Uzht7G​
Support the Show \\ Shop My Merch: http://www.yakfish.tv
Book a bowfishing trip: https://deepdeltabowfishing.com/
Subscribe: http://bit.ly/FieldTripsWithRobertFieldSubscribe
Check out my TopVideos!: http://bit.ly/FieldTripsWithRobertFieldTopVideos
▬▬▬▬▬▬▬ Follow Me on Social! ▬▬▬▬▬▬▬▬▬
Facebook → http://bit.ly/FieldTripsWithRF
Instagram → http://bit.ly/RF_IG
Twitter → http://bit.ly/RF_Tweet
▬▬▬▬▬▬ Follow YakFish TV on Social! ▬▬▬▬▬▬▬
Facebook → http://bit.ly/YFTV_FB
Instagram→ http://bit.ly/YFTV_IG
Twitter → http://bit.ly/YFTV_Tweet
Website → http://www.yakfish.tv
#redfish #fishing #louisiana
About Robert Field:
A few years back, I ditched the corporate grind to pursue my passions for traveling, fishing and the outdoor lifestyle. Now I live in a travel trailer full time, fishing and exploring my way through all 50 states and around the world.
Subscribe to catch weekly episodes every week!
Field Trips with Robert Field
http://www.youtube.com/YakFishField
https://www.youtube.com/watch?v=WdhxxcOf-P8