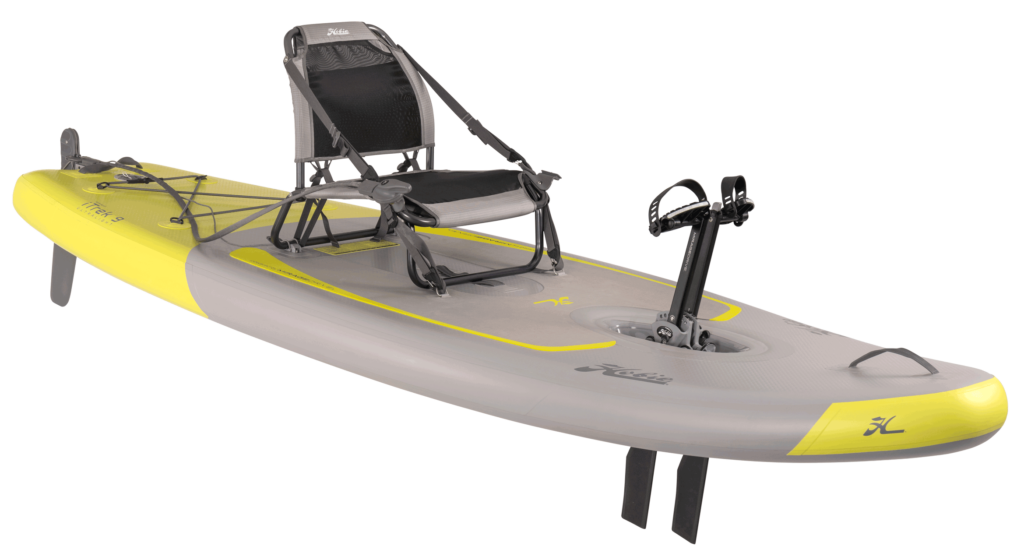 2023 Hobie Mirage iTrek 9 Ultralight Kayak
The Hobie Mirage iTrek 9 Ultralight Inflatable Kayak is our lightest and most maneuverable pedal kayak. It packs away in a convenient roller/backpack bag.  This bag allows you to store it in smaller spaces, like an apartment, RV, or boat.  Since it is only 20 lbs you can even check it onto a plane.  This inflatable transforms into a comfortable and maneuverable watercraft within minutes. The Mirage iTrek 9 Ultralight inflatable kayak is designed to help you reach remote waters with minimal hassle. Its diagonal drop stitch construction inflates to 10PSI, delivering strength and nimble performance.  However, because it is inflatable it is unbelievably lightweight.
Included is the MirageDrive GT with Kick-Up Fins and intuitive rudder control.  The iTrek 9 Ultralight can turn on its axis and navigate tight waterways with ease. The adjustable elevated seat is lined with breathable nano-mesh fabric, so you stay comfortable and cool no matter how long you're on the water.
The iTrek 9 Ultralight is fast, agile, and easily transportable – but we didn't stop there. It's versatile, too. Simply remove the MirageDrive and grab the three-piece SUP paddle and your iTrek 9 is ready to be used as a stand-up platform.
We made it easy to use and even easier to transport. Comes with a high-pressure hand pump and high-volume electric pump and a three-piece SUP paddle. Steering handle mounts on the left or right side of the seat. Carries up to 350 lbs. Just add water!
CREW: 1
DRIVE: MIRAGEDRIVE GT
LENGTH: 9′ 5″ / 2.87 M
WIDTH: 40″ / 1.02 M
CAPACITY: 350 LBS / 158.8 KG
FITTED HULL WEIGHT: 20 LBS / 9 KG
FULLY RIGGED WEIGHT: 37 LBS / 16.8 KG
MSRP: $2,599
*All colors, graphics and specifications of all models are subject to change without notice.
MirageDrive GT with Kick-up Fins
Improved Hull Construction is Lighter and More Durable
Aluminum-Frame Seating with Breathable Mesh
Detachable Rudder System for Right & Left Handed
EVA Standing Pads
Seat Mounted Cup Holders
Stand-Up Paddle
Rolling storage bag with extension handle
High Volume Hand Pump & High Volume Electric Pump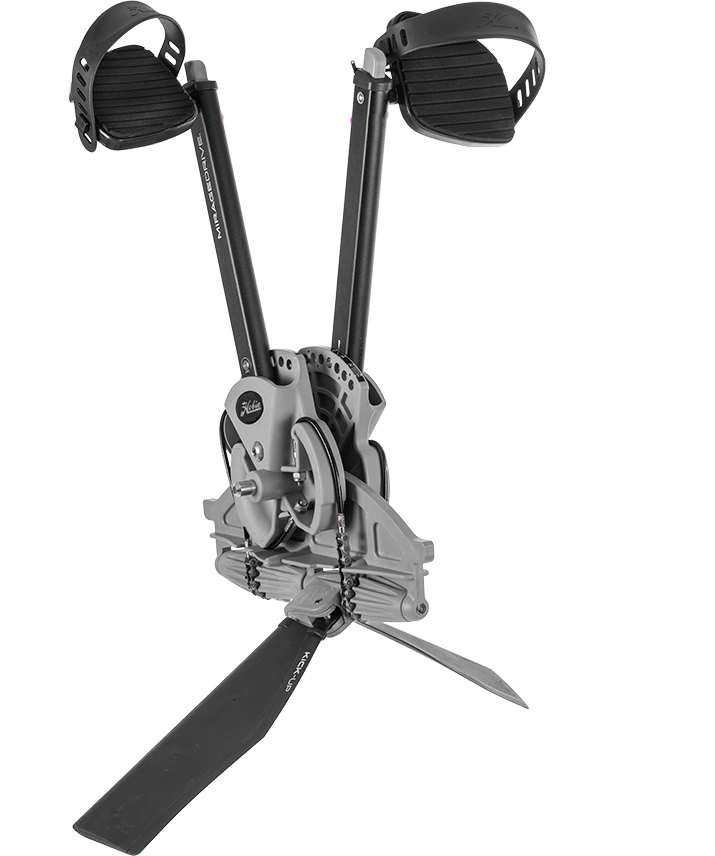 Powered by MirageDrive GT + Kick-Up Fins
The ungainly paddle is replaced by the sheer efficiency of the MirageDrive, the original pedal kayak drive. With the largest human muscle group now in play, kayaking becomes easier and more efficient than ever.
The Hobie i-Series is the perfect choice for the kayaker who is short on space or storage. When portability is paramount, Hobie inflatables easily fold up and pack nicely within the included rolling travel bag.