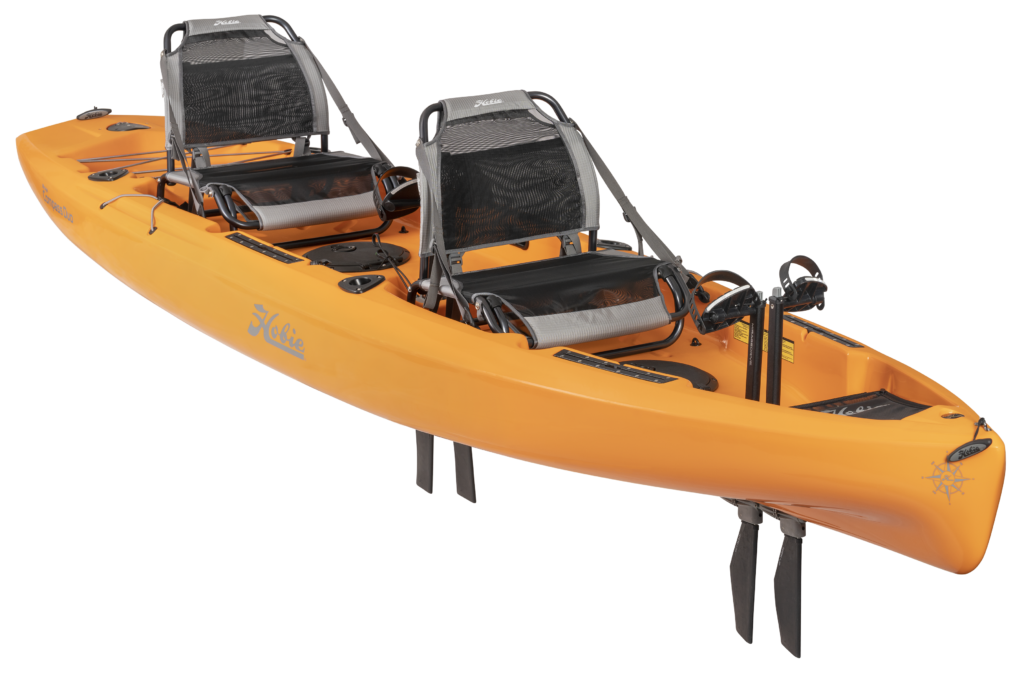 2023 Hobie Mirage Compass Duo Kayak
Searching for an elegantly simple yet highly customizable tandem kayak for on-water adventures with family, friends, and pets? Look no further than the brand new Mirage Compass Duo, the latest addition to Hobie's lineup of award-winning pedal kayaks.
The 2023 Hobie Mirage Compass Duo is powered by dual MirageDrives with Kick-Up Fins that retract on impact.  The Duo is now upgraded to both forward and reverse capabilities with one set of the upgraded MirageDrive 180. The cockpit features comfortable, ergonomic seating, 4 Integrated H-Tracks for accessory mounting, and abundant above and below deck storage compartments to house gear for two. The sleek waterline and Kick-Up Rudder system make for an impressively nimble tandem kayak that's highly responsive, easy to steer and extremely durable. The roomy Compass Duo is simple to use and adventure-ready, making it the ideal choice for water outings with adults, tikes, and furry companions.
Crew: 2
Length: 13.5′ / 4.11 m
Width: 35″ / 0.89 m
Capacity: 475 lbs / 215.46 kg
Fitted Hull Weight: 92 lbs / 41.73 kg
Fully Rigged Weight: 127 lbs / 57.61 kg
Hull Construction: Rotomolded Polyethylene
MSRP: $3,999
Color Options:
*All colors, graphics and specifications of all models are subject to change without notice.
One MirageDrive MD180 + Kick Up Fins
One MirageDrive GT + Kick-Up Fins
Two-Piece Paddle with On-Hull Storage
H-Track accessory mounts
Mesh-Covered Bow Storage
Drink Holder
Two Molded-In Rod Holders
Rear Cargo Area with Bungee® Tie Downs
Carrying Handles
Lowrance® Ready
Introducing the Mirage Compass Duo
Explore a new direction with the Mirage Compass Duo. Slide easily across the water and navigate forward virtually hands-free.
Sleek yet Stable Hull Shape
A freshly designed bow cuts through wind, wake and chop with ease. The spacious and extra wide deck provides comfort and security for even the most novice of kayakers.
Kick-Up Rudder and Molded-in Tracking Keel
The Kick-Up Rudder locks in to place when you need it and retracts on impact. A molded-in tracking keel keeps you on course, whether pedaling or paddling.
Spacious Deck Layout
Room for all the activities. Four H-Track mounts allow complete accessory customization, whether fishing or looking for the perfect place to mount your GoPro. Two 8" Twist and Stow hatches provide in-hull storage, and four molded-in rod holders turn this kayak into a veritable fishing machine. Install an optional Sail Kit in the new Sail mount for an added power boost.
Molded-in Carrying Handles
Located amidship, these handles are ergonomic and conveniently placed to make car topping a breeze. Bow and Stern handles help with transport to and from the water.
The Hobie Mirage Compass comes standard with a built-in transducer mount and includes through-hull cable plugs.
( Lowrance transducer not included. Shown on the Mirage Outback. )