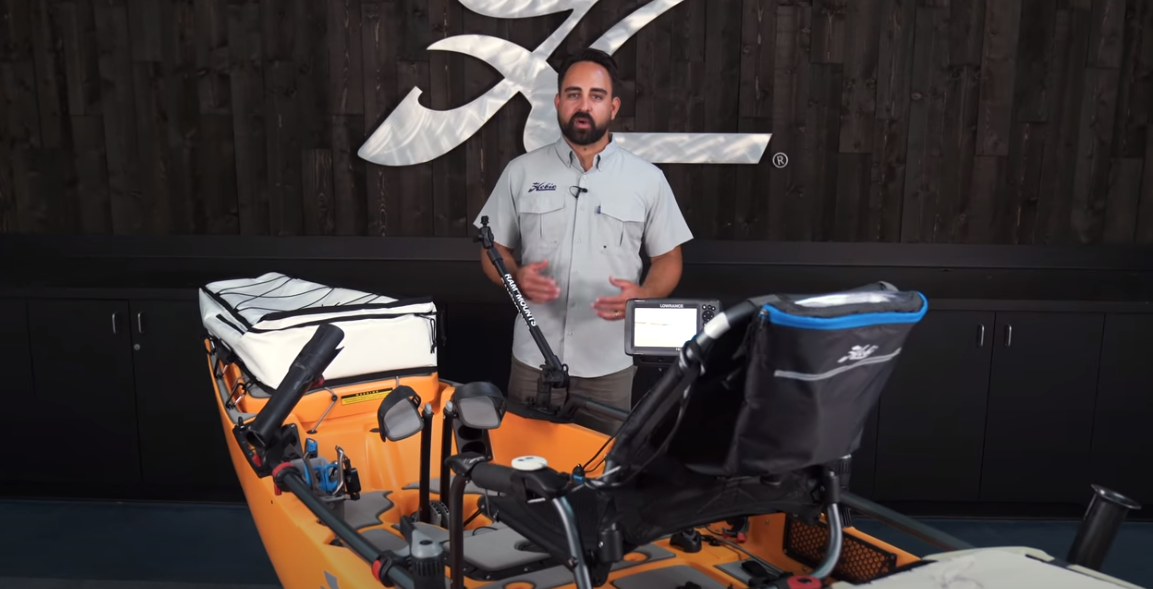 February 24th, 2021
Posted by Gregg Kell
Kayak Fishing
0 comments on "Hobie ProAngler 14 – All the Accessories to upgrade your kayak"
How to upgrade your Hobie Pro Angler 14 Kayak
Want to upgrade your Hobie Pro Angler 14? For discerning anglers who demand it all – room, stability, performance, stealth, and comfort– the PA 14 stands alone. There's a non-skid deck for standing—a huge advantage for sight fishing from a kayak—and veritable acres of H-Rail for mounting rod holders, electronics, and other important accessories. All this on a spacious 12, 14 or 17-foot platform, with no need for a gas tank.
The 12 and 14-foot models are available with Hobie's unique MirageDrive 180 or the MirageDrive 360, both with Kick-Up Turbo Fins that provide efficient, worry-free, quiet propulsion.
In this video, Howie walks through his fully-rigged platform that's capable of crossing over from saltwater to freshwater or inland salt in a snap. To view detailed installation videos of each accessory featured in this video, visit the Pro Angler Rigging Series playlist on Hobie's YouTube channel or check out https://www.hobie.com/support/​ and look for your exact Pro Angler model.
Please reach out to Pure Watersports in Dana Point for any of the featured accessories listed below or to purchase a Hobie Pro Angler 14. You can ask for a free test drive. Contact Pure Watersports at (949) 661-4947 or info@purewatersports.com.
Featured Accessories in this video:
72020252 HOBIE DECK PAD KIT PA14 – GREY/CHARCOAL
84500116 HOBIE H-BAR / PRO ANGLER
72020231 LOWRANCE HOOK REVEAL 7 TRIPLESHOT
72020145 FISHFINDER LITHIUM POWER KIT
84620151 1.5″ H-RAIL RAM BALL
72023055 1.5″ RAM FISH FINDER BASE
72020117 HOBIE VANTAGE SEAT ACCESSORY BAG
72020083 POWER POLE MICRO AND 8′ UL SPIKE
72020185 MICRO LITHIUM BATTERY PAK
72020176 POWER-POLE MOUNT KIT PRO ANGLER
72020072 HOBIE LIVEWELL XL
72020015 HOBIE ROD HOLDER LIVEWELL/H-CRATE
72020073 HOBIE TROLLEY KIT – TROLLEY READY
72020111 HOBIE FISH BAG/COOLER LARGE
71110001 BLACK NYLON PADEYE (x6)
8030251 SCREW 10-32 x 1″ FHMS (x12)
8080461 #10 FLAT WASHER (x12)
8050211 10-32 NYLOCK LOPRO (x12)
71709002 HOBIE RECTANGULAR HATCH BUCKET V2
72020098 HOBIE H-RAIL ROD HOLODER
72020099 HOBIE HD STRAP KIT (x2 required for securing a single rod holder)
72020014 HOBIE ROD HOLDER EXTENSION
84623004 HOBIE H-RAIL MINI BIN
72020088 HOBIE H-CRATE
72020097 H-CRATE SOFT COVER
72023078 RAM DUAL T-BOLT TRACK BASE FOR SPLINE POST
72023083 RAM® TOUGH-POLE™ 18" SINGLE PIPE WITH RAM® TRACK-NODE™/SPLINE POST