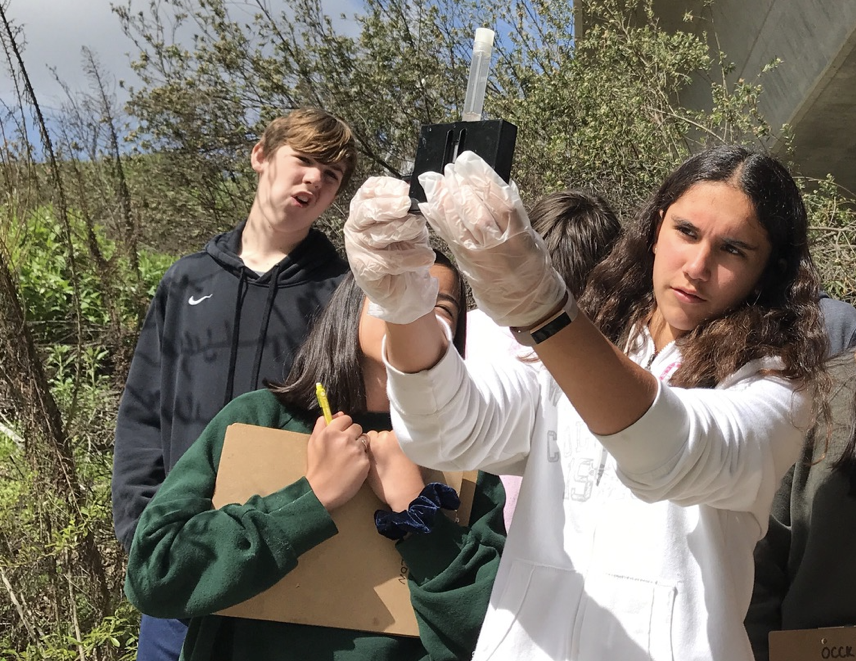 September 11th, 2020
Posted by Gregg Kell
Uncategorized
0 comments on "Students Learn About Water Conservation and Watershed Protection"
In 2018, Coastkeeper launched a partnership with the Moulton Niguel Water District to bring high-level water and watershed education to future ratepayers in their service area. We found that our missions aligned in our goal to inspire students to be stewards of their water resource and so we worked together to develop a program specifically designed for the service area. We have since reached over 1,500 6th- and 7th-grade science students through this partnership.
Coastkeeper created a presentation using resources and information specific to Moulton Niguel Water District's service area and even taught students how to use their water bill as a resource to help them conserve water and protect their local watershed! Students learn about water budgets, tier-based rate systems, and how to check for leaks in the household using these tools. Students also learn the importance of recycling water and discuss other ways our area could become more water independent.
We were even able to provide our program virtually when the global pandemic made it so that we were unable to conduct our field trip program as planned. Below are quotes from teachers regarding our online program:
"The students were very appreciative to come together for the field trip and for the way you two presented everything. I am amazed at how you two put things together and made it work. This zoom and virtual field trip could really be something cool for student education…Next year, I hope we can do it again. Hopefully, in person though. Thanks again!" –Wende Iriart, a 7th-grade science teacher at Don Juan Avila Middle School
"Thanks so much. It was so great to have the experience and give the kids, not just super information, but something different to their routine." –Tracey Forbes, a 7th-grade science teacher at Don Juan Avila Middle School
"Hi Cristina ~ Thanks so much for the awesome program! The kids loved it and are still talking about it! Some have even contacted me to learn more. I think I've already spent an additional 3 hours teaching more to those students that had additional questions

Thanks again for adapting the program to meet the needs of our students. Your work and efforts are greatly appreciated :)" –Valarie Broadhead, a 7th-grade science teacher at Aliso Viejo Middle School
"Hi Cristina! Thanks for today! It was so nice to be able to do the field trip with the quarantine. I posted the video on Google Classroom for any kids that missed it. I also shared the two videos with you on Drive. I looked more closely at the photos you sent. They are great pics! I posted those as well for the kids." –Cindy Ortiz, a 7th-grade science teacher at Aliso Viejo Middle School
After having gone through our program, students feel more connected to their local watershed, waterway, beach, and are more appreciative of our water resources. Student letters and assignments, and feedback from teachers reflect that students not only retain information but also enjoy the program. They become curious about other scientific or environmental topics. We hope that this connection inspires them to become stewards of their water resources and watershed.
The post Students Learn About Water Conservation and Watershed Protection appeared first on Orange County Coastkeeper.
https://www.coastkeeper.org/students-learn-about-water-conservation-and-watershed-protection/